For more information regarding the events, please click the button below.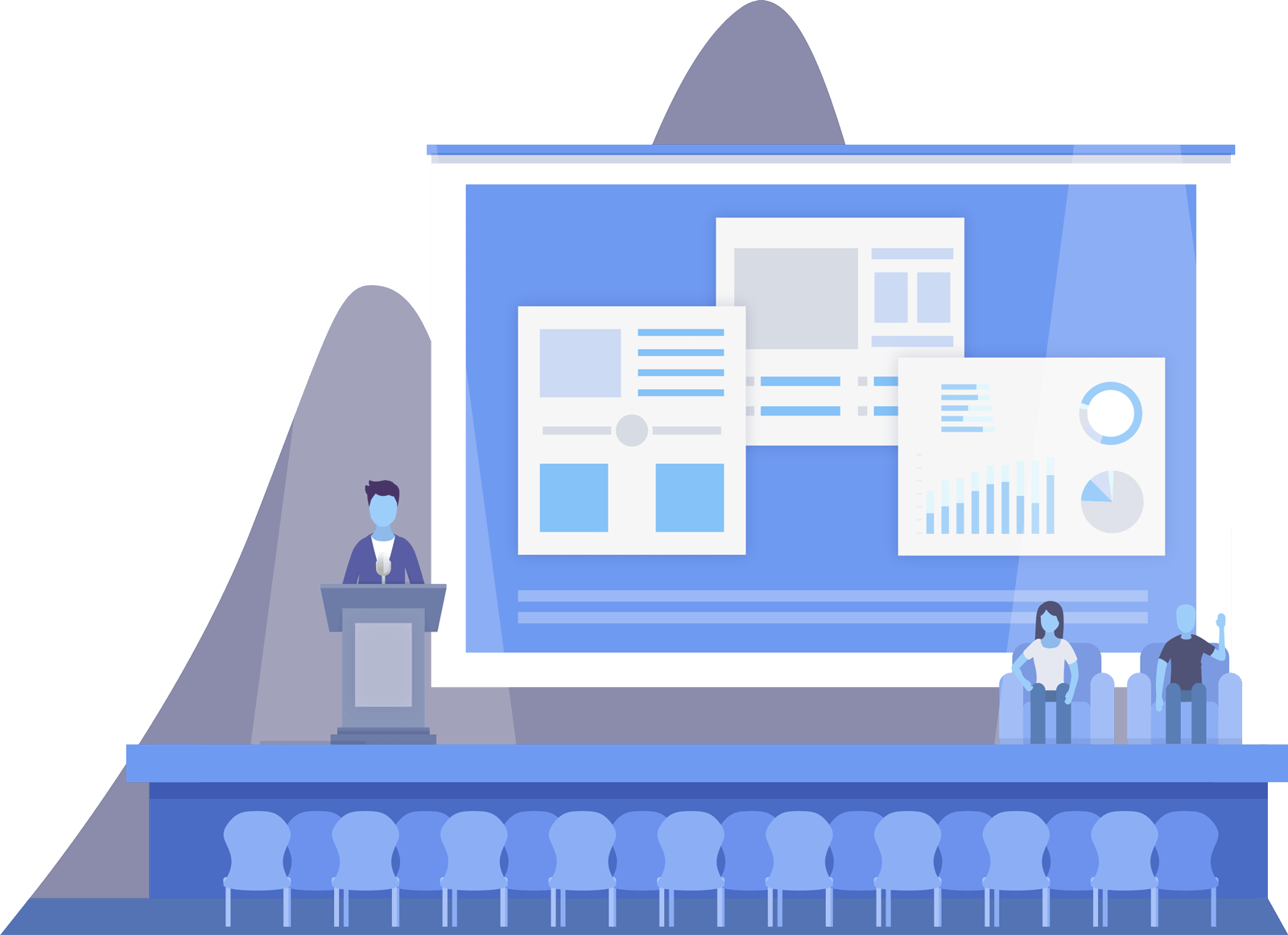 Webinar
Speaker: Sonia Yuke Mahardhika 
Field Application Specialist
PT Genetika Science Indonesia
After the 1948 Noble Laureate Arne Tiselius developed a method called electrophoresis, especially for his research concerning the complex nature of the serum proteins in the 1930s, some discoveries of proteins electrophoresis system have been found. To date, the protein gel electrophoresis called SDS-PAGE is a widely used basic research technique and very important for the understanding of protein characteristic. It can be used to estimate the relative molecular mass, to assess the purity of protein samples, and to determine the relative abundance of major proteins in a sample.
Live on GoogleMeet
Date: 20 April 2022 (Wednesday)
Time: 14:00 WIB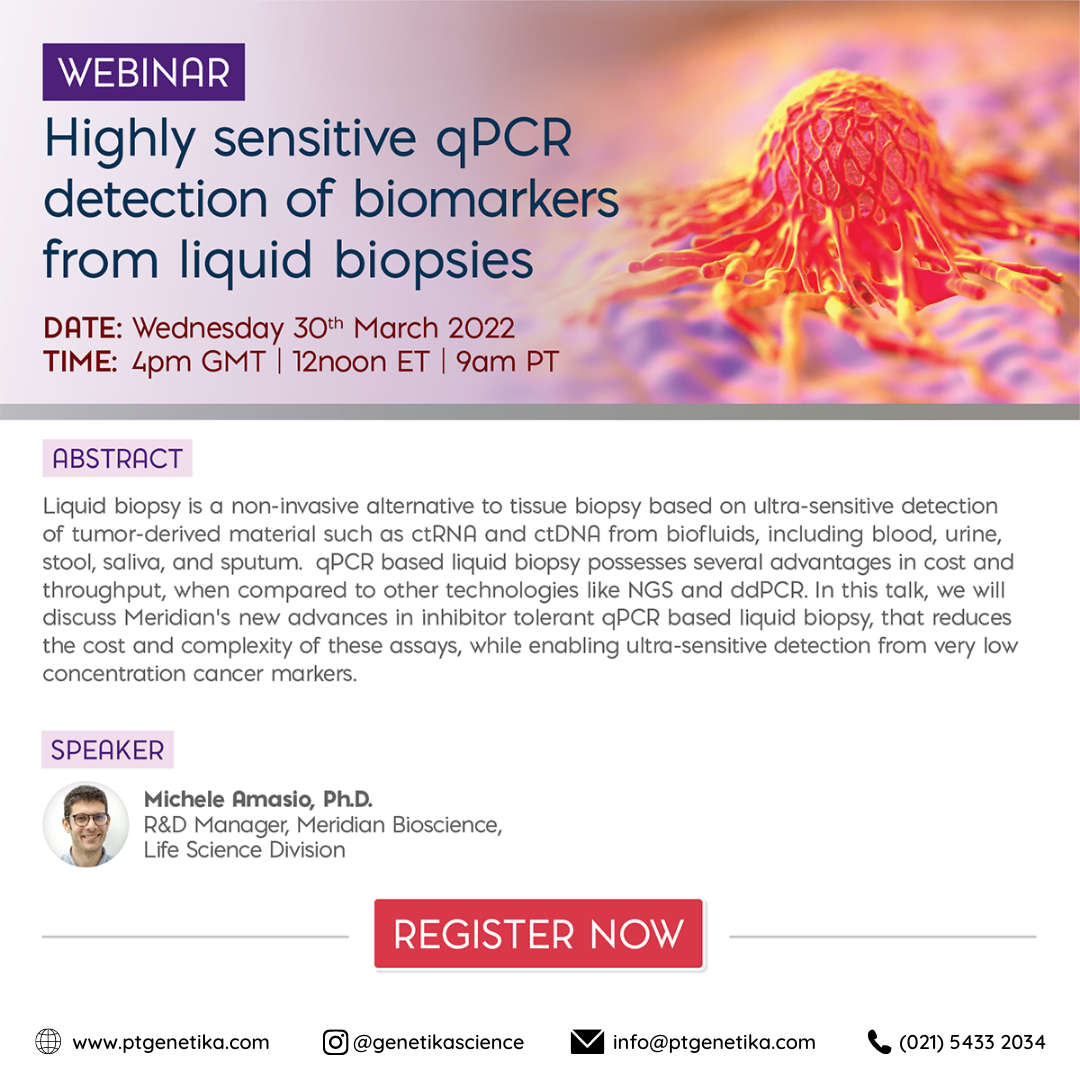 Webinar
Hosted by Meridian Life Science
Liquid biopsy is a non-invasive alternative to tissue biopsy based on ultra-sensitive detection of tumor-derived material such as ctRNA and ctDNA from biofluids, including blood, urine, stool, saliva, and sputum. qPCR based liquid biopsy possesses several advantages in cost and throughput, when compared to other technologies like NGS and ddPCR. In this talk, we will discuss Meridian's new advances in inhibitor tolerant qPCR based liquid biopsy, that reduces the cost and complexity of these assays, while enabling ultra-sensitive detection from very low concentration cancer markers.
Wed, Mar 30, 2022 11:00 PM – Thu, Mar 31, 2022 12:00 AM WIB
Webinar
Hosted by Zymo Research
Everyone is talking about bioinformatics. But how do you get started in this in-demand field?
Join our Director of Bioinformatics, Jeffrey M. Bhasin, PhD., to develop your bioinformatics skills in our first Bioinformatics for Beginners webinar session.
Date: 31 March 2022 (Thursday)
Time: 12:00AM WIB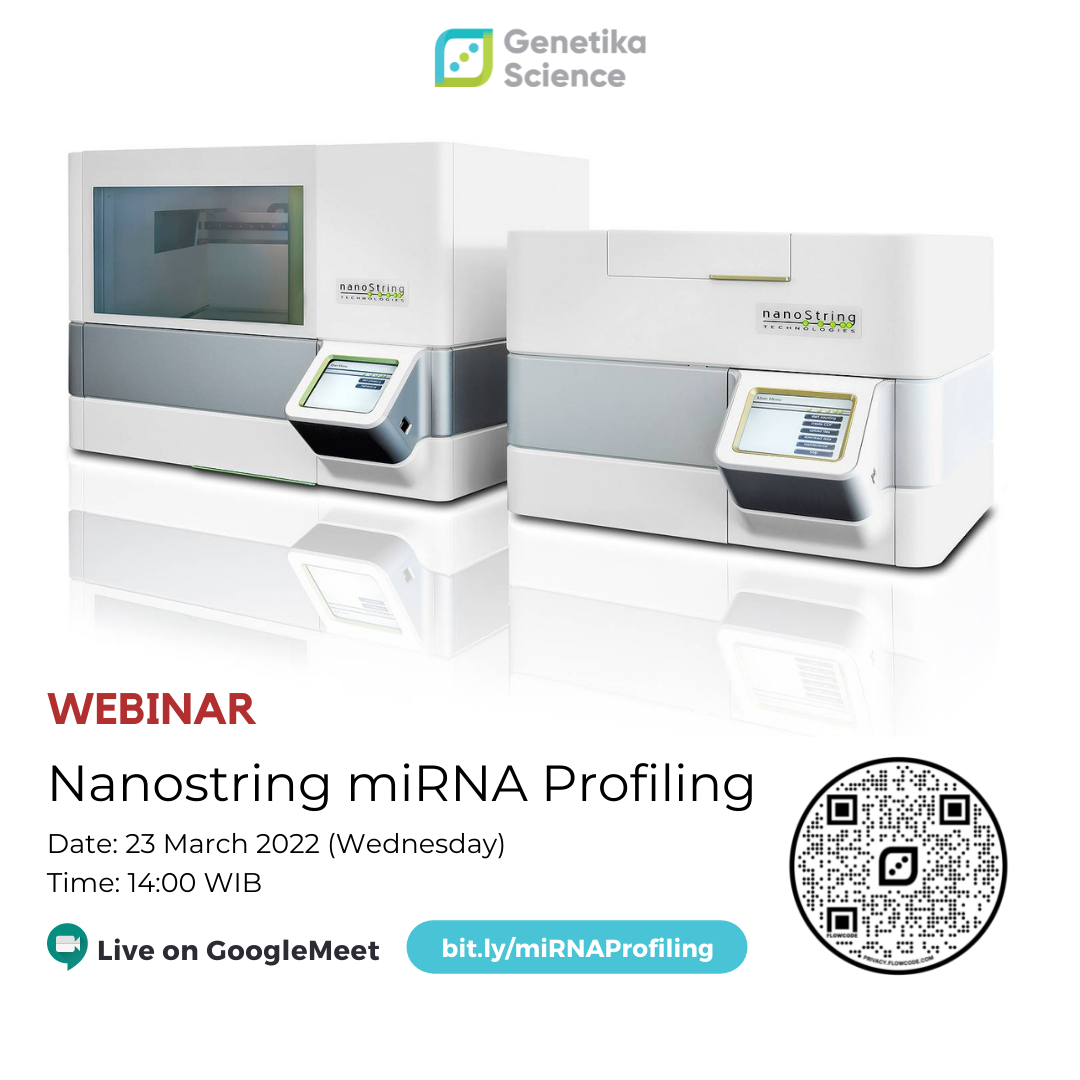 Webinar
Speaker: Monika Nanda 
Field Application Specialist
PT Genetika Science Indonesia
Over the years after the first microRNA was discovered in 1993, research and discovery about microRNA has been growing exponentially. With the increased interest towards microRNA and its role in regulating some biological processes from tissue differentiation to disease pathology, microRNA profiling becomes an essential tool for the finding and investigating microRNAs. One of the available platforms for microRNA profiling is NanoString. The platform works by utilizing direct molecular barcoding of target molecules using a unique probe for each target of interest and followed by detection of the target digitally.
Live on GoogleMeet
Date: 23 March 2022 (Wednesday)
Time: 14:00 WIB
Webinar
Free Registration
In this session, you will learn:
– How to resolve haplotypes of a highly heterozygous genome like lychee and how the haplotypes help to trace back its evolution history.
– How to utilize population resequencing data to restore origin, domestication and cultivation of lychee
– How to find key genes of lychee fruit maturation when data mining.
Tuesday, 10 March, 2022
(16:00 WIB)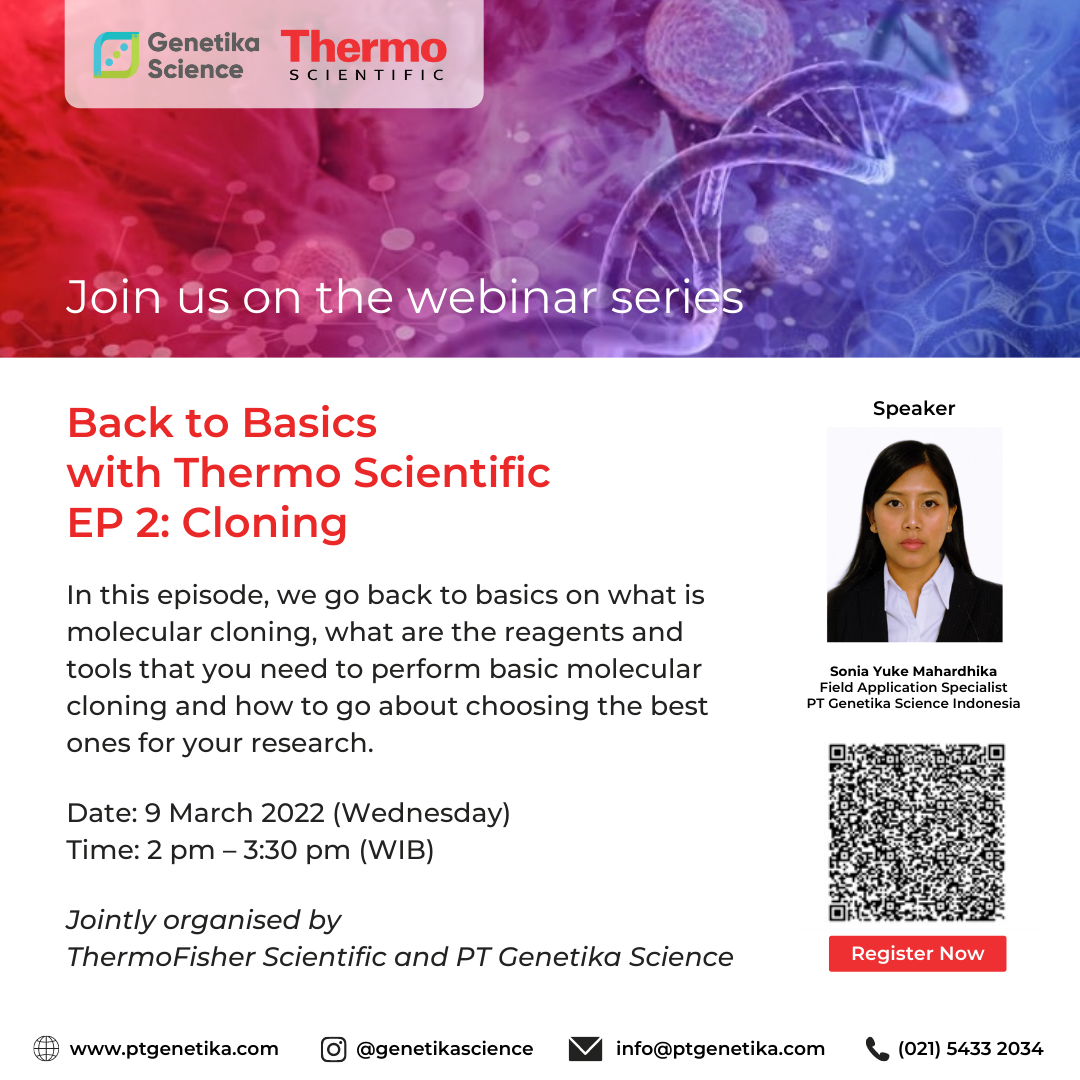 Webinar
Free Registration and e-Certificate
In this episode, we go back to basics on what is molecular cloning, what are the reagents and tools that you need to perform basic molecular cloning (such as restriction enzymes, end modifying enzymes, competent cells and cloning kits) and how to go about choosing the best ones for your research.
Wednesday, 9 March, 2022
(14:00 WIB)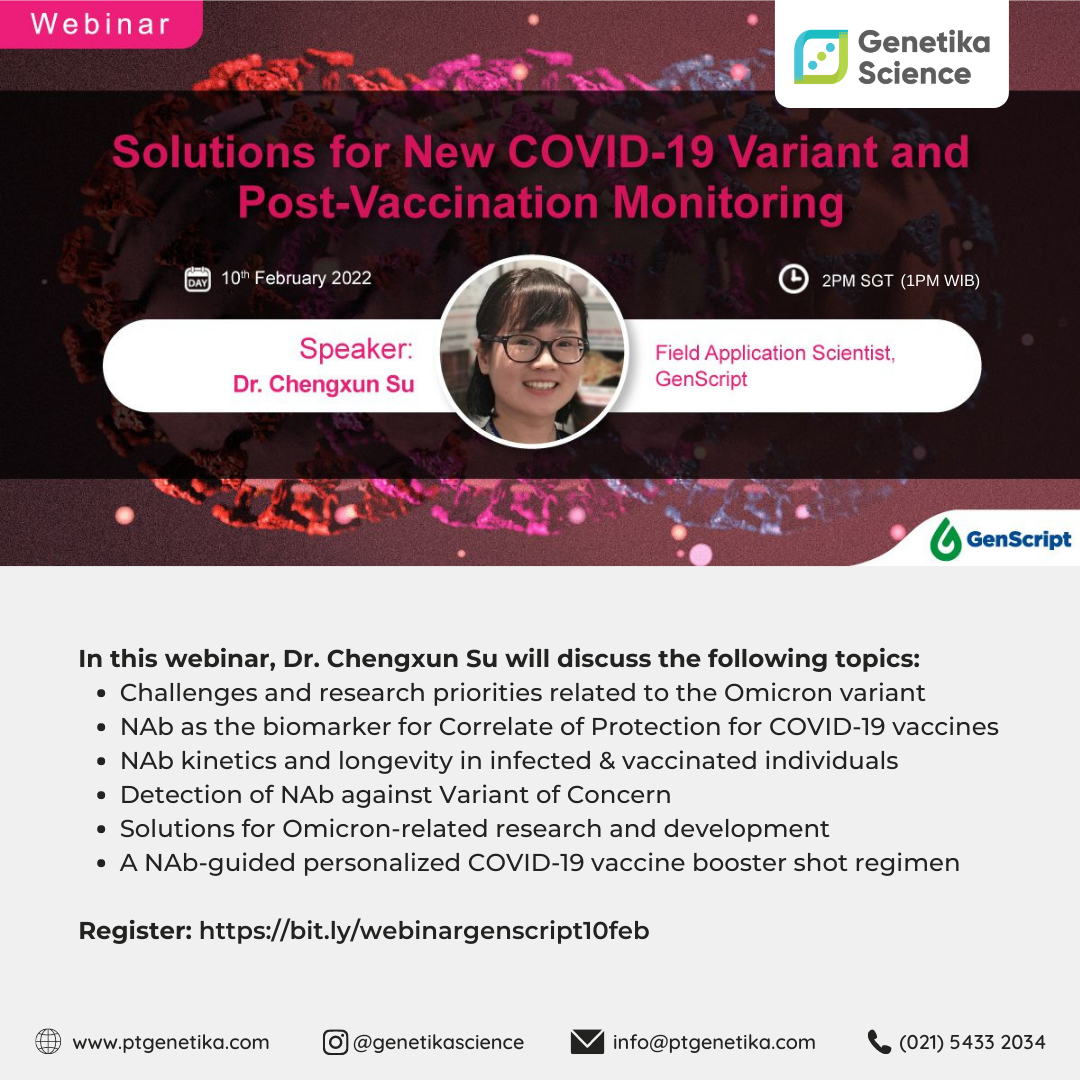 Webinar
In this webinar, Dr. Chengxun will be discussing:
– Challenges and research priorities related to the Omicron variant
– Neutralizing Antibody (NAb) as the biomarker for Correlate of Protection for COVID-19 vaccines
– NAb kinetics and longevity in infected & vaccinated individuals
– Detection of NAb against Variant of Concern
– Solutions for Omicron-related research and development
– A NAb-guided personalized COVID-19 vaccine booster shot regimen
Thursday, February 10th, 2022 (13:00 WIB)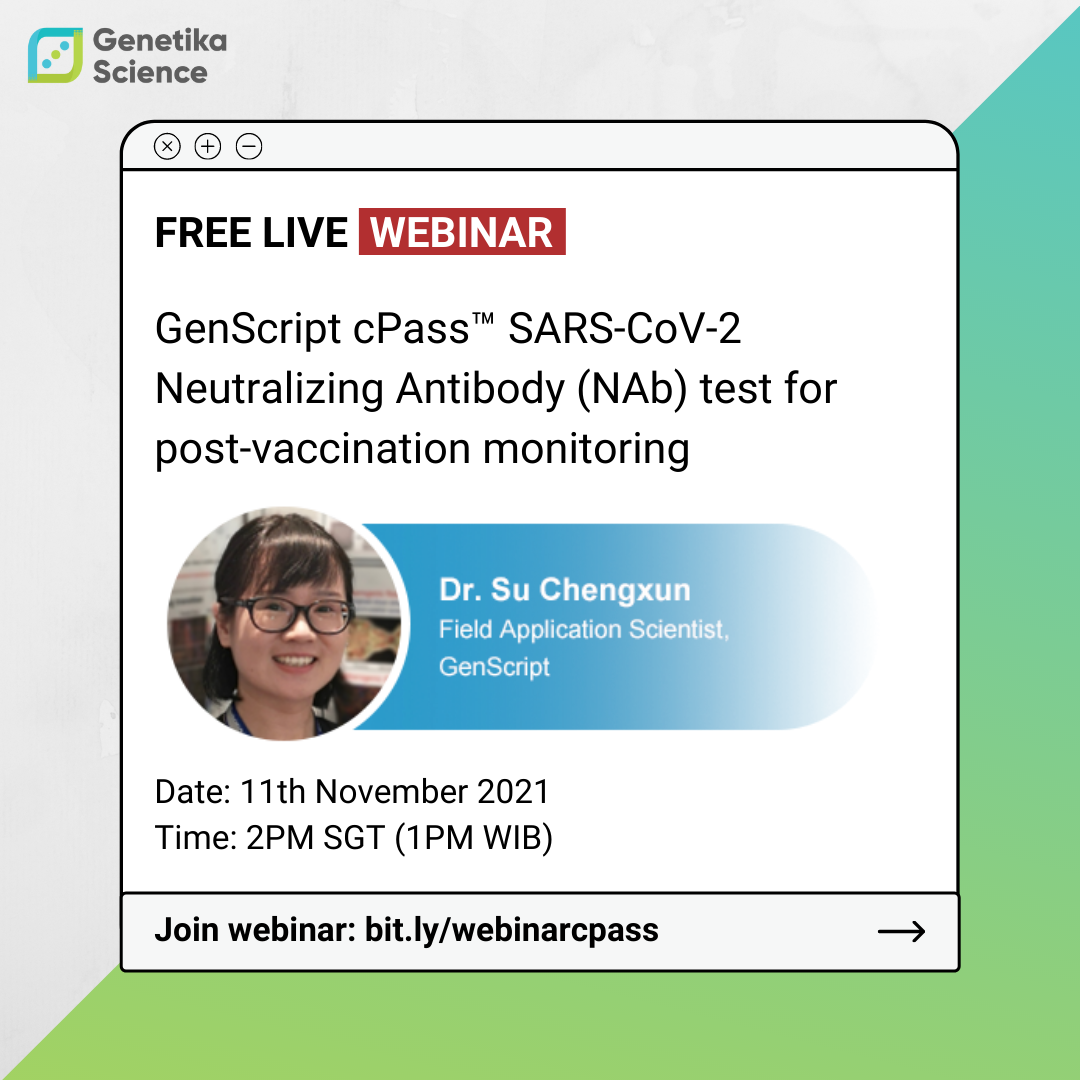 Webinar
In this session, Dr. Su Chengxun will discuss challenges in COVID-19 post-vaccination monitoring, protection against new variants of concern, as well as limitations of existing serology methods. We will also review cPass™ correlates of protection, NAb longevity in infected & vaccinated individuals, its importance in next-generation vaccine development, and why cPass™ can potentially guide booster shot regimen and serve as a COVID-19 'exit strategy' to reopen the economy and society.
Tuesday, November 11th, 2021 (13:00 WIB)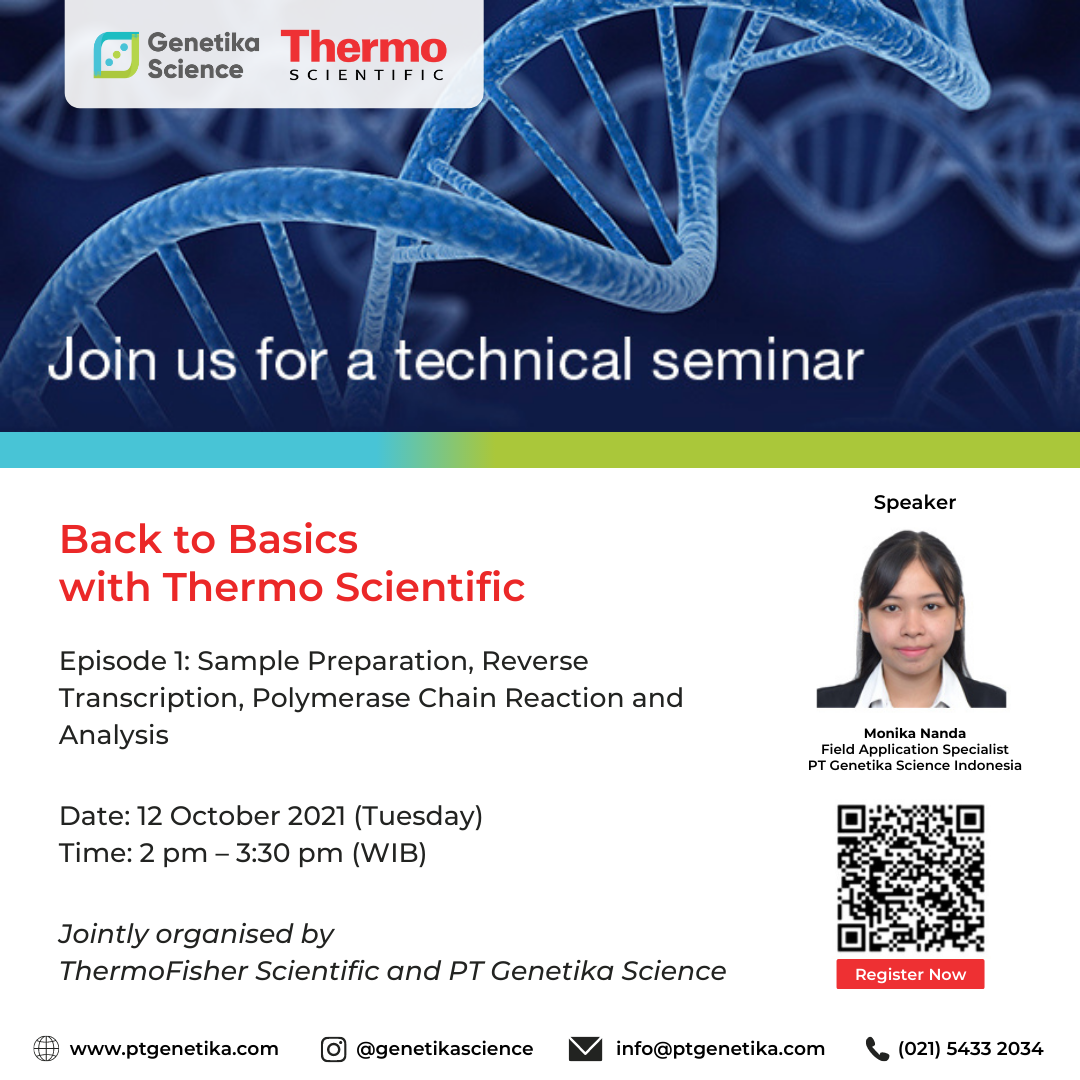 Webinar
In Episode 1 of this educational series presented by Genetika Science Indonesia in collaboration with Thermo Fisher Scientific, we go back to basics and delve into the most fundamental topics in molecular biology, such as: Sample preparation, reverse transcription, polymerase chain reaction (PCR) and nucleic acid gel electrophoresis. 
Tuesday, October 12th, 2021 (2 P.M WIB)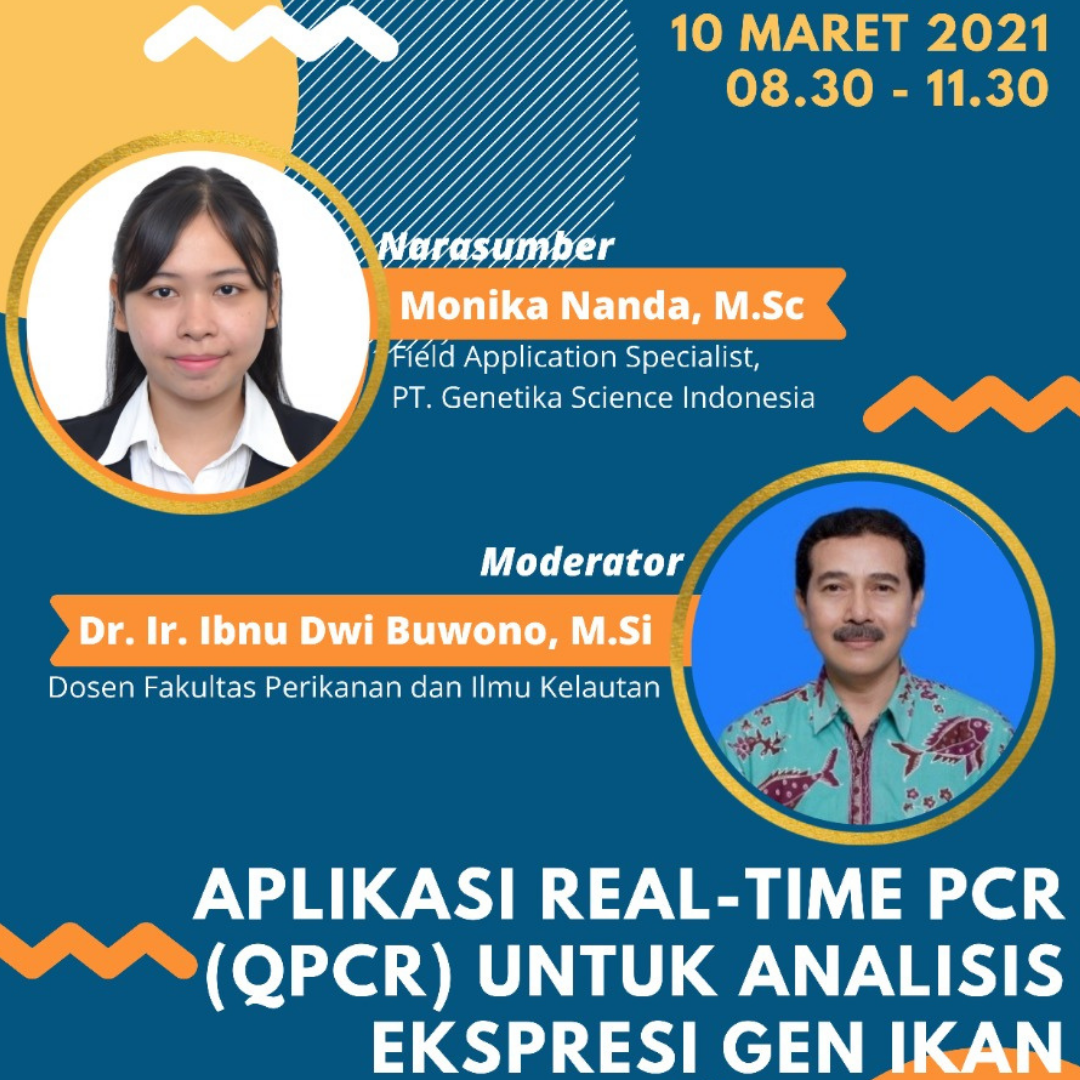 Webinar
Aplikasi Real-Time PCR (qPCR) untuk Analisis Ekspresi Gen Ikan.
Narasumber: Monika Nanda, M. Sc
Field Application Specialist
PT Genetika Science Indonesia
Moderator: Dr. Ir. Ibnu Dwi Buwono, M. Si
Dosen Fakultas Perikanan dan Ilmu Kelautan UNPAD
Wednesday, March 10th, 2021 (08.30 WIB)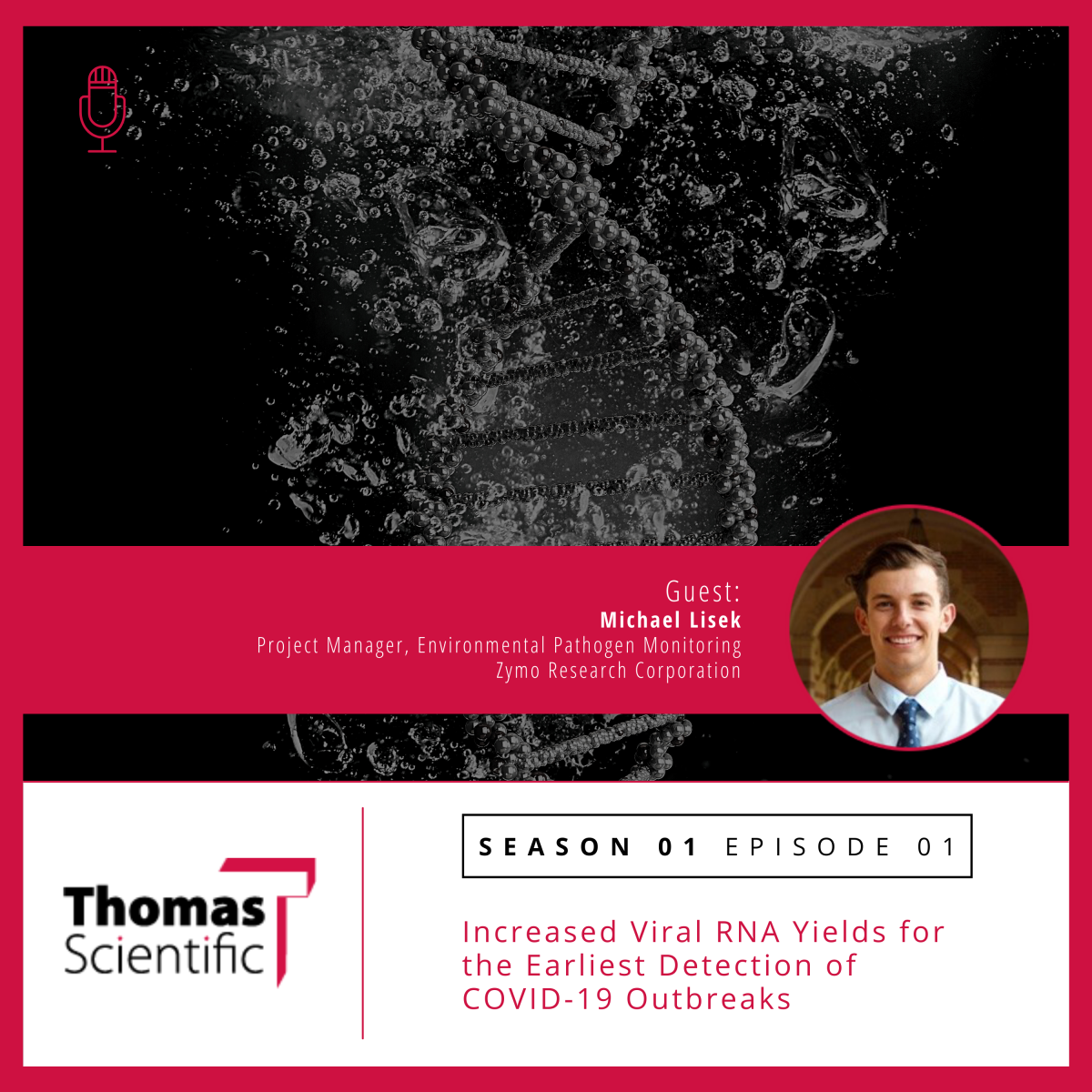 Podcast
In this episode, Michael Lisek, Project Manager – Environmental Pathogen Monitoring at Zymo Research Corporation discusses how to scale your COVID-19 testing and streamline efficiency through detecting viral concentration load in wastewater using Zymo Environ Water RNA Kit for SARS-CoV-2 Wastewater Surveillance.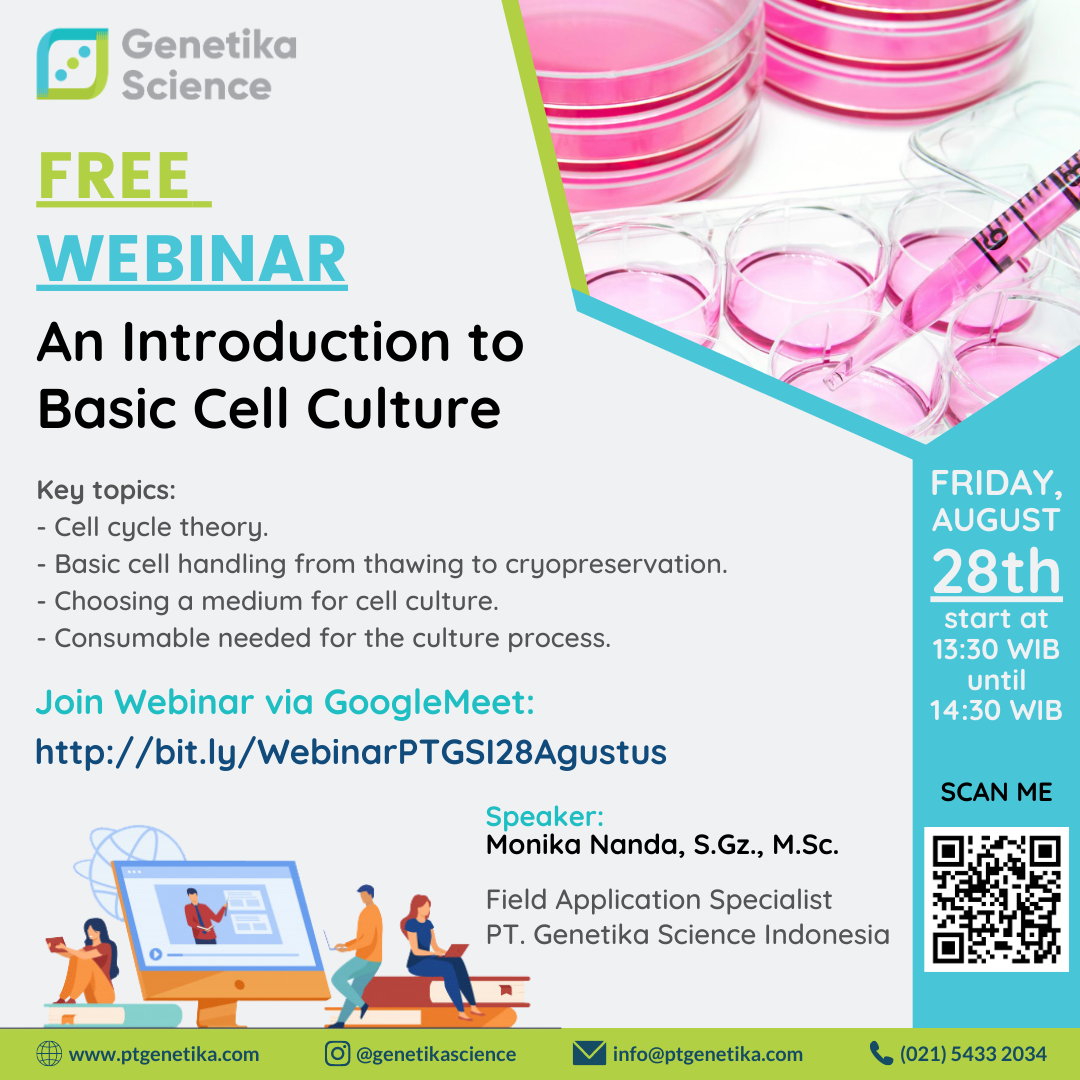 Webinar
As a model for studying cell biology, cell culture use remains as a standard practice in biological research laboratories. With broad applications, from in vitro test to drug development, many laboratories are now starting to include cell culture as a tool for validation and discovery studies. This webinar will cover basic knowledge needed before beginning to work with cell culture.
Friday, August 28th, 2020 (13.30 WIB)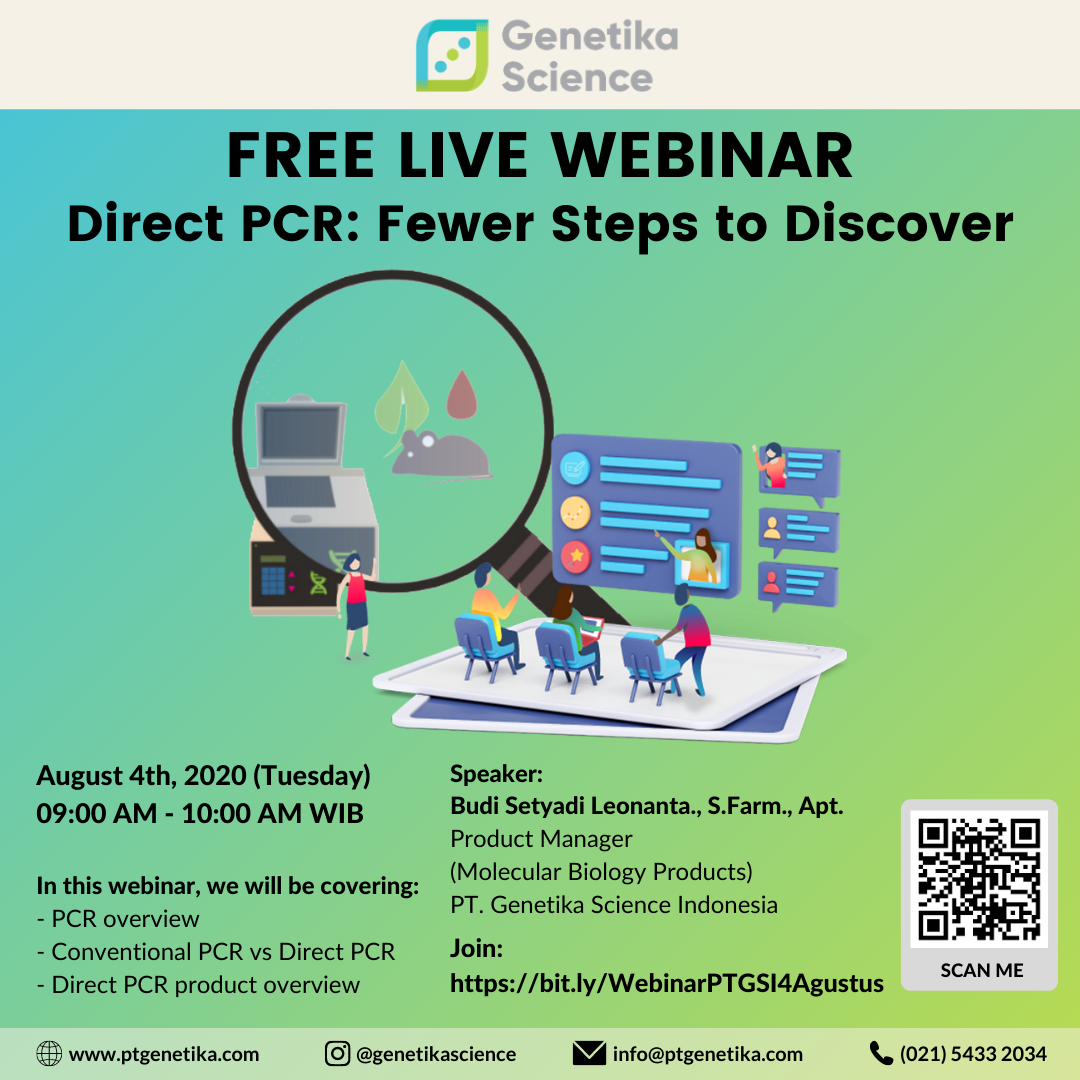 Webinar
In recent years direct PCR approach delivers convenience for DNA amplification by allowing PCR directly from many type of samples such as bacteria, plant, blood, animal & human tissue without prior DNA purification. The modified elements of dPCR enable robust amplification despite the presence of PCR inhibitors often found in crude samples & also significant savings in time and cost.
Tuesday, August 4th, 2020 (9 A.M WIB)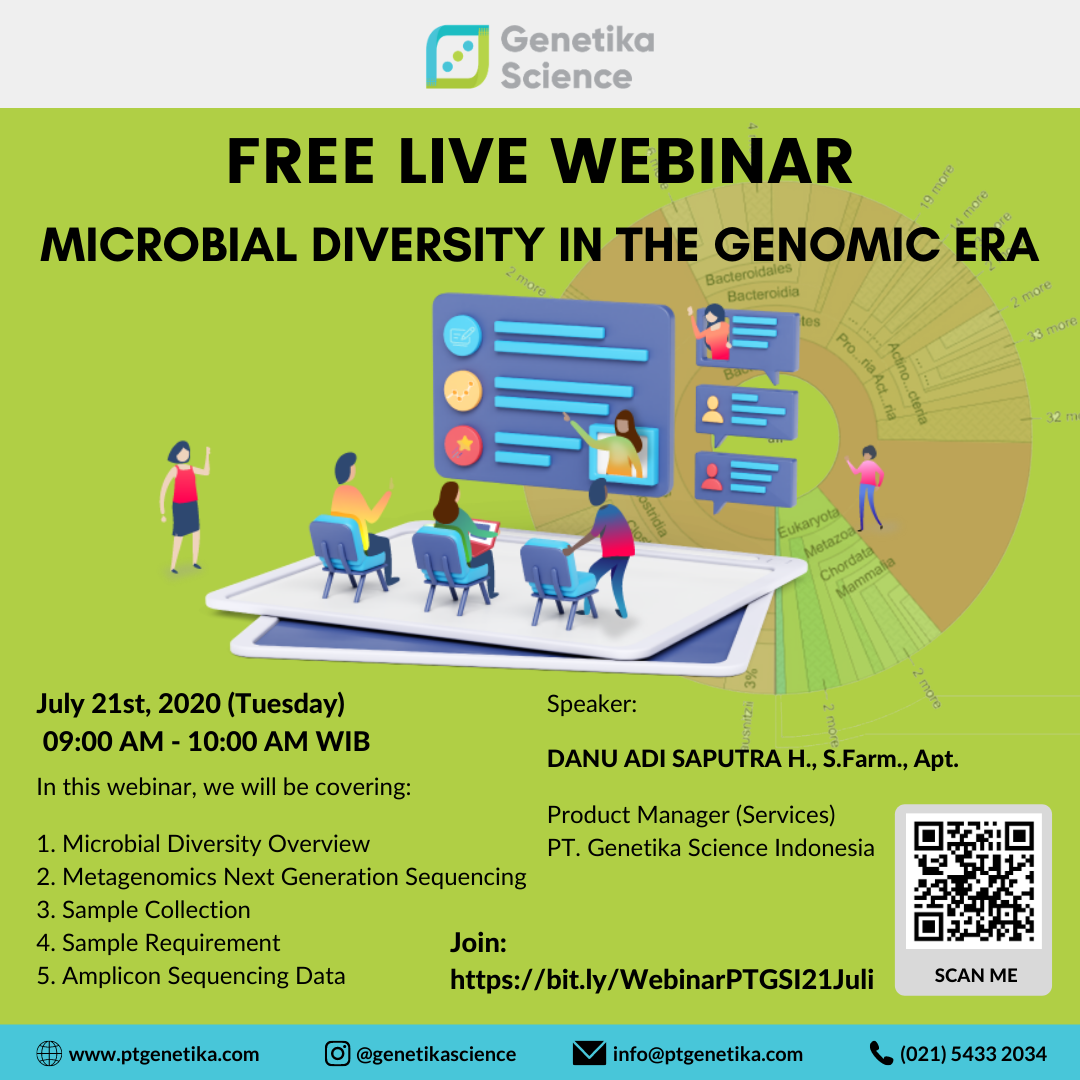 Webinar
In this webinar, we will be covering:
1. Microbial Diversity Overview
2. Metagenomics Next Generation Sequencing
3. Sample Collection
4. Sample Requirement
5. Amplicon Sequencing Data
Tuesday, July 21st, 2020 (9 A.M WIB)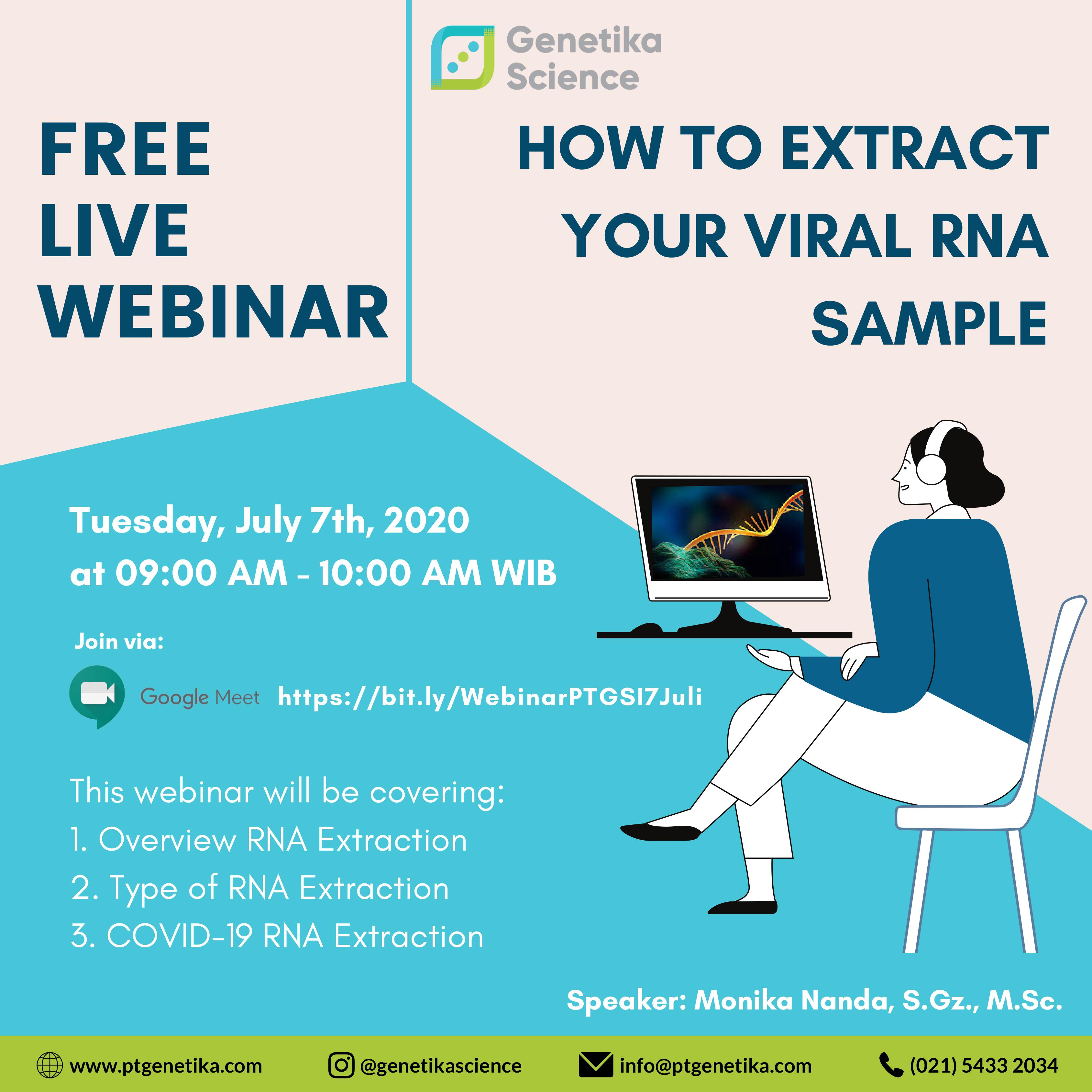 Webinar
Viral detection depend on its genetic material (DNA or RNA). RNA viruses generally have very high mutation rates compared to DNA viruses. The extraction of RNA is challenging due to delicate nature of RNA and sample sources. To get good quality of RNA requires the careful selection of methods and reagents.
Tuesday, July 7th, 2020 (9 A.M WIB)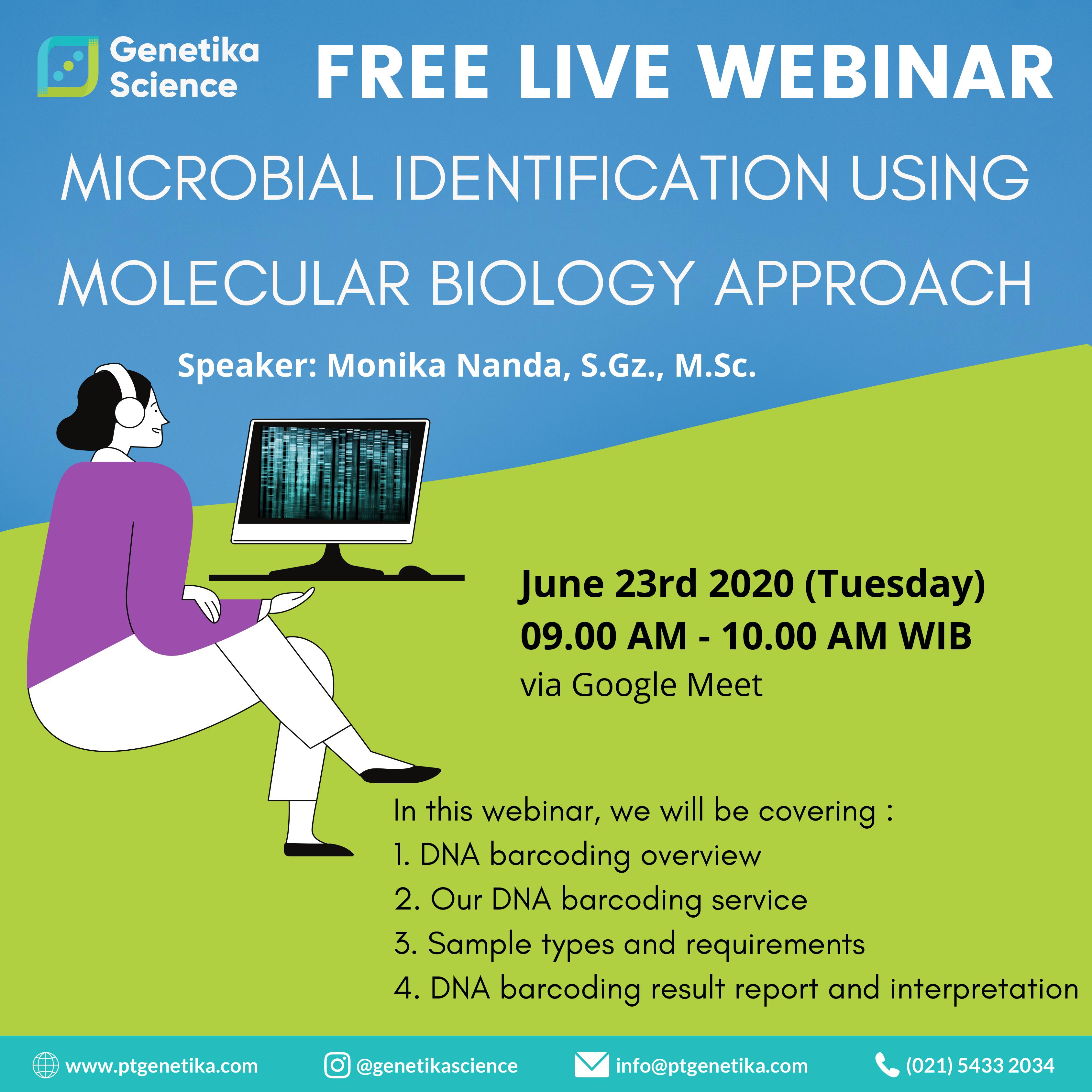 Webinar
In this webinar, we will be covering :
1. DNA barcoding overview
2. Our DNA barcoding service
3. Sample types and requirements
4. DNA barcoding result report and interpretation.
Tuesday, June 23th, 2020 (9 A.M WIB)